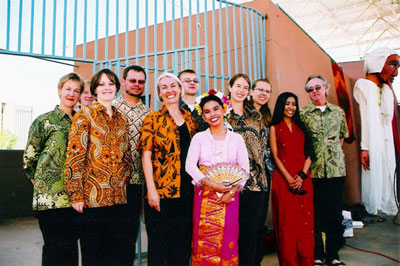 Gamelan Encantada and Friends at the Festival of Asian Cultures, May 2006
Gamelan Encantada is a percussion ensemble with roots in the metallophone orchestras of Southeast Asia, specifically those of Central Java in Indonesia.
Gamelan Encantada, located in Albuquerque, New Mexico, was created in 1991 by Founder and Artistic Director, Jenny DeBouzek (who also performs music from Bali and the Southern Philippines).
In addition to presenting traditional Javanese music, Gamelan Encantada is committed to commissioning and performing contemporary and experimental music, with a focus on works by New Mexican composers.
Past performances include the 2nd Annual Global Music Sampler Benefit Concert for Habitat for Humanity at the Lobo Theater, the Festival of Asian Cultures at the Albuquerque Civic Plaza, and a Lunar New Year Concert at the Harwood Art Center. Gamelan Encantada was one of the featured local groups at the 2006 Globalquerque World Music Festival, and has also performed in concert at the Outpost Performance Space, UNM's Keller Hall, the Museum of International Folk Art, and other venues throughout the Southwest.
In 2011, Gamelan Encantada celebrated their 20th Anniversary with the release of their CD "Oasis in the Desert: New Music from New Mexico."
(For a list of upcoming performances, please go to Events. For a list of past performances, please go to Archive. To hear samples from and order "Oasis in the Desert," go to CD.)