CD - Oasis in the Desert: New Music from New Mexico (2011)
Contents and Composers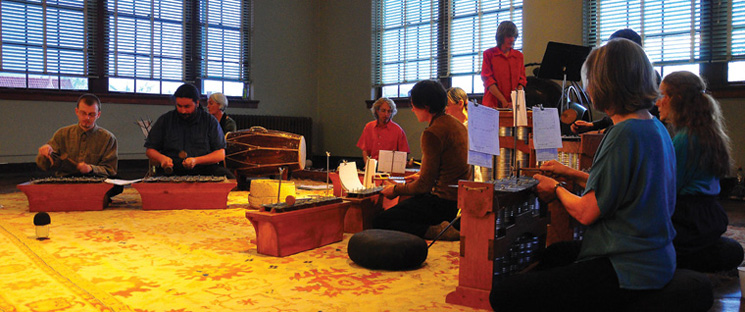 TJOTJOG by Steve Peters (1992)
"Tjotjog (cocok) is a Javanese word referring to a fortunate synchronization of events, what we might call a 'happy accident.' Melodic lines of varying lengths overlap to create shifting rhythmic and harmonic juxtapositions."
Steve Peters is a composer, sound artist, producer, curator and writer who now lives in Seattle, WA. He was one of the original members of Gamelan Encantada and wrote a number of other pieces for the ensemble, some of which incorporated found sounds and electronic processing.
SYMPHONY FOR GAMELAN by Joseph Weber (1991)
This is the second movement of a three-part Symphony for Gamelan. The text is from the biblical Song of Songs of Solomon (Canticum Canticorum Salomonis), and is sung in Latin by Beth Cohen, who has been a member of Gamelan Encantada since 2008. "So now in his eyes I have become welcomed."
Joseph Weber, who passed away in 1999, composed a wide range of music for chamber ensemble, orchestra, chorus and piano. He was also an accomplished organist, and, at the time of his death, was preparing a concert of the works of Olivier Messaien. He also collaborated with various theater and dance companies throughout New Mexico and taught music theory and composition at the College of Santa Fe.
PATIENCE: A GAME by Beth Yip (2008)
"Patience: A Game grew out of my interest in the vein of experimentalism that explores the boundaries between music and other human activities. The form of the piece exemplifies an indeterminate performance process, where the players are given semi-improvisational events, within which certain parameters are specified, others are loosely specified, and others are left entirely up to the performer. The overall pacing results in significant non-sound-producing spans that allow ambient or unintended sounds to be included in each experience of the piece."
Beth Yip recently completed graduate work at UNM in theory and composition, where she wrote her thesis on feminist themes in the music of Pauline Oliveros. She continues to be interested in working with multi-media and alternative approaches to music and sound, and has helped to organize Unheard Of, a series of concerts featuring work by local composers, as well as the Harvesting Local Soundscapes Project, funded through UNM's PLACE program.
EVENING PRAYERS & DANCE by Daniel Davis (2000, 1994, 2006)
"Each part of the trilogy called Evening Prayers and Dance (Peace, Hunger, Solitude and Jubilation) shares a similarity in style and instrumentation, and although the meters of each are different, metrical shifts appear internally throughout. The gongs often sound alone or isolated, like great orbs in rotation around the other musical bodies."
Daniel Davis has composed a wide variety of music in many styles, ranging from solo and chamber works to orchestral and operatic pieces, and has also created music and sound design for theater and dance productions. He teaches music at CNM Community College and at the UNM Center for the Arts Department of Music.
---